Life Goes On
Event type: Single
Original release date: 21st April 1991
This single has an associated
Music Video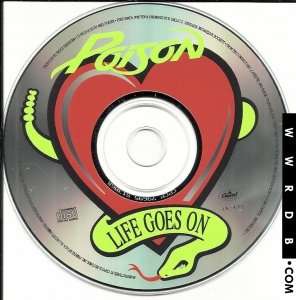 STANDARD TRACK LISTING:
There is no standard track listing currently available for this event.
Products For "Life Goes On"
7" single
Capitol
2043527
April 1991
Cassette single
Capitol
4KM-44705
21 April 1991
CD single (5")

[Promo]

Capitol
DPRO-79695
April 1991
7" single
Capitol
2600-7
April 1991
LEGALLY STREAM THIS EVENT OR ARTIST'S MUSIC NOW:

Please note: Streaming links above are provided with no guarantees - not all artists and not all music is available to stream. Sometimes artists deliberately withold some or all of their music from streaming services. Some streaming services are not free and require a monthly/yearly subscription payment.
Related Music Videos
Tools For This Single
Spotted any errors or omissions?
Contact
us with the details quoting the above page link and we'll update the database.